If you don't remember where you were, what you were doing or whom you were doing it with on Friday, December 19, 1980, fear not. I am here to take you back. Join me now as we step into the wayback machine.
If you were in Los Angeles it was a December day much like other December days in LA. Temperatures reached a high of 69.1F, a low of 50F with the average temperature for the day being 56.2F.
The headline news for December 19, 1980 isn't quite the laugh-fest that Jake seems to think it is.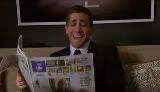 L
atest Iranian demands for release of American hostages, including $24 billion in guarantees, said to include some President Carter cannot meet.....
I
n Iran, anti-Khomeini protesters clash with Revolutionary Guards.....
C
hrysler's Lee Iacocca in Washington to discuss XM-1 tank production problems with Pentagon.....
A
lexei Kosygin, former prime minister of USSR, pronounced dead.....
N
atural gas leaks threaten town of Jane Lew, WV.....
S
ecretary of State-designate Alexander Haig meets with congressional members prior to confirmation hearing.....
J
ustice Dept. gives Charleston, SC twenty days to institute satisfactory school desegregation plan.....
F
ederal judge sentences two Church of Scientology officials for theft of IRS documents.....
I
ncrease in gas prices reported.....
P
rime rate at 21.5%
*
.....
F
ederal judges in Florida drop charges against ship captains involved in Cuban boatlift.....
A
rab guerrillas killed during Israeli raid in Lebanon.....
L
eft-wing terrorists claim responsibility for department store bombings in Athens, Greece.....
I
n UN, U.S. joins unanimous vote against Israel for expulsion of two West Bank mayors.....
J
ustice Dept. clears Sen. Howard Cannon of any wrongdoing in land deal with Teamsters union.
*
Jake Gyllenhaal has the distinct fortune to be born on a day when the
prime rate hit an all time record high
. That record still stands.
I
t should also be noted that Jake was born during
The Intense Magnetic Storm of December 19, 1980
. If anyone wants to take a shot explaining that, go for it.
B
ack in LA, Jake may have been a tad too young to attend, but that evening down in Inglewood at the old Forum his beloved LA Lakers took on the Portland Trail Blazers. Jake-luck wasn't on their side that night; they lost to the Trail Blazers 110-106 on Friday, December 19, 1980. In happier times, and with a little Jake-luck, the Lakers met the Trail Blazers again, on January 4, 2009. This time defeating the Trail Blazers 100-86.
At the movies
that Friday, December 19, 1980 opening in LA and around the country, you may have seen one of several movies of note: Raging Bull, often referred to as the best movie of the 80s; Nine to Five, Dolly Parton's cinematic debut; and Neil Diamond's classic reworking of The Jazz Singer. . .
On television
that Friday night you may have watched that young up and comer Jerry Seinfeld finish his 3-episode arc on
Benson
as 'Frankie the Mailman. Tonight's episode is entitled
Benson's Groupie
. Diana Canova left the always entertaining
Soap
the previous season to headline her own sitcom,
I'm a Big Girl Now
, which aired immediately after
Benson
. Diana's show didn't last a full season, but she did pull off her greatest coup to date - appearing on the cover of TV Guide for the week of December 13-19, 1980.
Friday night television from 9-10pm in December, 1980 was pretty slim pickings. If you were lucky you might have gotten a phone call that evening to tell you about the birth of a child that day, which saved you from having to watch
The Dukes of Hazzard
.
But come 10pm on you were probably watching
Dallas
, now in its 4th season, when it was still interesting and JR was still scheming. Tonight's episode is
Trouble at Ewing 23
. Season 4 opening credits for old time's sake.
For a couple of years starting back in April, 1980,
Fridays
, a skit-oriented variety/comedy show premiered on ABC latenights. The program was ABC's attempt to duplicate the success of NBC's Saturday Night Live (especially since SNL was facing a decline in quality in the early 1980s following the departure of show creator Lorne Michaels and the remnants of his original cast). Like SNL, each week Fridays featured music acts and on Friday night, December 19, 1980 Rockpile featuring Nick Lowe appeared.
If you changed the channel quick enough, you may have caught The Tonight Show with Johnny Carson. Johnny's
surprise guest that night was Frank Sinatra
who sang the Christmas classic, The First Noel.
I
f you were looking for live music on Friday night, December 19, 1980, you may have been at Madison Square Garden rocking out to
Bruce and The River tour
. If you found yourself at the Baymount in Sligo, Ireland that night, you would have seen 4 fresh faces from Dublin City on the second leg of their
Boy tour
.
Friday, December 19, 1980. It was a very good day.
Friday's Child is Loving and Giving
Happy Birthday, Jake