Weeks of reading Source Code press, watching interviews and flipping through photos has made me feel like I'm reliving time. I can't imagine how Jake Gyllenhaal, Duncan Jones and the Source Code team feel. The movie is finally out in the U.S., U.K. and a few other places. And Jake and Duncan are pressing on; in Madrid for a photocall and press conference today, then Berlin at the end of the week.
Looks like Jake is "impressing" as usual:
Very nice, handsome, polite and smiling. Jake Gyllenhaal has landed in Madrid to present his latest film, 'Source Code'. The actor was lavished with smiles and jokes at the presentation.
Very fun interview, with a transcript
here
.
Here's a cute
story
from a Vanity Fair reporter who got to interview Jake. Full translation in the comments but here's a snippet, loosely translated:
Before my turn came, I heard gossip that last night had led Jake (and Duncan) to a flamenco show and to eat chocalate and churros at San Ginés chocolateria and this morning has come late to the press conference. Therefore, I expected a boring man who'd send us yawning. But nothing could be further from the truth. Charming, funny and incredibly attractive, Jake is an expert in dealing with the press, plus he's a joker.
There's more video
here
. And here's Jake at his hotel: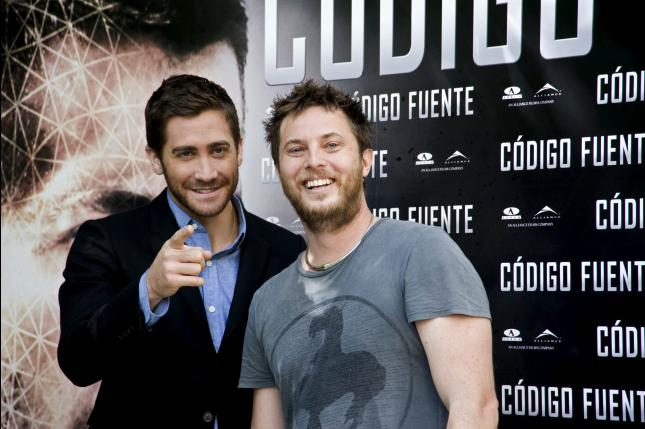 Since Jake is in Spain, here's a Spanish interview:
---
Maxim
has uploaded its interview with Jake, and there are some fun questions/answers.
Tell us about Source Code. It's a tough one to explain.
Yeah, I'm going to try to only make movies that are inexplicable, so people have to go see them. It really helps ticket sales. But, really, Source Code is a weird amalgamation of genres. Ultimately it's a story about someone who is unconscious becoming conscious of his life. ...
Every woman, from our girlfriends to our sisters to our moms, is in love with you. What's your secret?
It's all about getting on a "Sexiest Man" list. If you can work that out, then I think you're pretty much golden. No, you should read Maxim; that's where I get it. And always be a gentleman.

You've dated some beautiful and talented women—Kirsten Dunst, Natalie Portman, Taylor Swift, Reese Witherspoon. Which of them would make the best Maxim cover?
Uh, I got nothing for you there.Finally, what do you wish you could tell your 18-year-old self?
I'd say, "Lighten up, dude. Bubble Boy is a lot better than everybody says it is."